Spotlight
We're revealing the wisdom and creativity of students and collaborators of Ossia Musical Forum at monthly Spotlight events, and shedding some light on people you should know. Sign up for our newsletter by clicking here to get a heads up for this and other classical music events.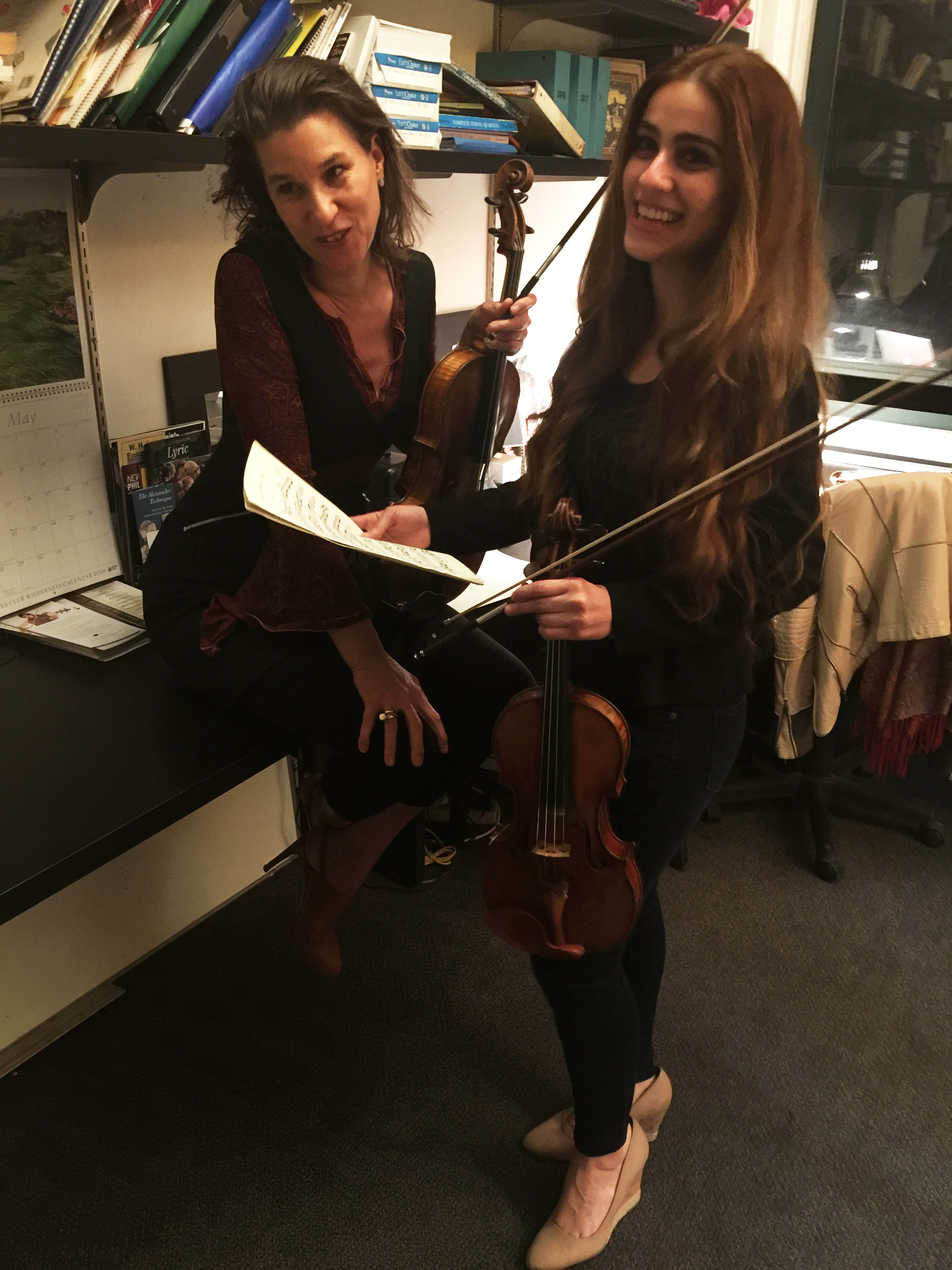 "Erica has that rare and wonderful combination of stellar musicianship, utmost dedication to the musical arts, and a spirit that sparkles with joy and delight. She is a colleague I am most grateful to have in my circle." ~Nora Williams
Erica Carpenedo Answers 10 Questions
1. Please describe your music experience.
2. What (or who) are your musical influences?
3. What are your fondest musical memories?
4. Do you perform often in public?
5. What advice would you give to beginners?
6. Do you teach music, or are you taking music lessons?
7. What is your regular music practice like?
8. Can you describe how your Italian background influences your music?
9. What are your other interests or activities?
10. How long have you known Nora Williams?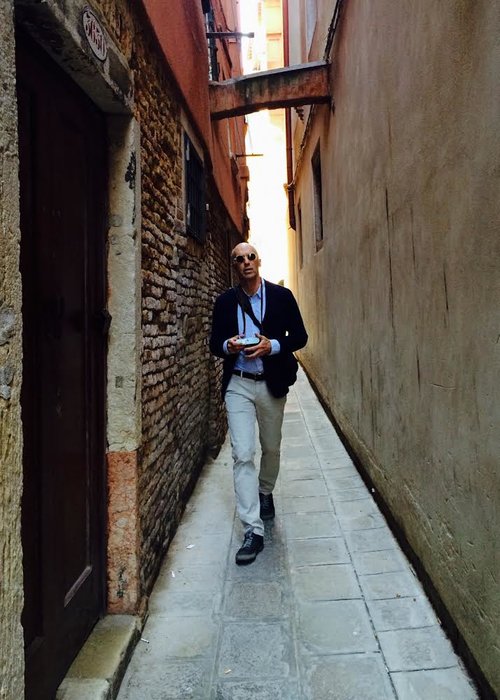 "Larry is at once the most intense and calm person I've ever known. It has been my joy and privilege to collaborate with him over the years." ~Nora Williams
Larry Simon Answers 10 Questions
1. Please describe your music experience. I have been playing and studying classical piano since the age of 12, with some breaks in the half-century or so to referee ice hockey, backpack, and follow other non-musical pursuits. In my late 20s, I began studying piano again with a very inspirational teacher who had graduated from the Franz Liszt Academy in Budapest. Among her classmates was Georg Solti. One of her teachers, Pal Kadosha, also taught the great pianist Andras Schiff. Lili Simon (no relation) re-ignited my passion for music, which led to further study in accompaniment with pianist and performer Diana Schmück.
2. What (or who) are your musical influences? Alfred Brendel is the pianist who has influenced me most. But then, there is Solti, and the songs of Richard Strauss, the last Beethoven piano sonata, the Ring Cycle, the Magic Flute — I mean, where does it stop — or start?! Music is a never-ending series of golden threads somehow mysteriously and magically intertwined. It might be fair to say that all of it influences and informs.
3. What are your fondest musical memories? I was lucky to have parents who went regularly to Ravinia and Orchestra Hall. At a very young age, I got to see Rudolph Serkin, Vladimir Horowitz, seasoned conductors like Josef Krips, and a very young Seiji Ozawa. Those experiences are always with me. In the last few decades, several moments stand out: like the first time I heard Sir Georg Solti's heels 'click-clicking' in rapid fire on the stage floor as his crisp figure came into view through the string section at Orchestra Hall; Alfred Brendel's final chords in his last encore of the last recital of his many Chicago appearances; the second balcony perch from where I witnessed my first Ring Cycle at the Lyric, entranced.
4. Have you ever performed piano in public? I have performed, nervously, in Ossia Musical Forum Recitals as an accompanist and chamber player — and was convinced to put on a brief 'lieder abend', an evening of art songs with friend and colleague (and far better musician) Vikkie Holland at my home. Performing has always felt unnatural, and just thinking about it makes my palms sweat. I haven't done it enough, probably because I'm too fearful of doing it at all!, so it's a bit of a vicious cycle.
5. What advice would you give to beginners? Enjoy practicing slowly. Immerse yourself in a piece of music you love. Focus on scales and exercises because they are the backbone of dexterity, and thus, musical freedom.

6. Do you teach music, or are you taking music lessons? I don't teach music per se, but have enjoyed working with Ossia Musical Forum musicians as an accompanist and coach for greater expression. I combine yoga, breathing and elements of the Feldenkrais Method when coaching. I will probably return to studying with Diana Schmück soon because I miss the give-and-take of music lessons, which often serve as life lessons. [Visit the Take A Class page to learn about more about Larry's Piano Coaching.]
7. Do you have a regular music practice? Another reason to continue with lessons! If I have no musical goal, whether it's learning something more challenging or even imagining myself performing, sitting down every day at the piano is tough sledding. I find that a new piece I heard or the idea of accompanying a singer plants a seed that needs the fertile soil of learning to blossom. The discipline and structure of teacher-student relationships, for me, offers discovery, a wonderful thing.
8. Does your music influence your art and photography? Music strongly influences my photography and latest art-making of photo collages. While I'm roaming streets of cities making pictures, I find myself humming the latest music I've been studying or listening to. Many times, the images I print will have a musical title, like one called September, Four Last Songs. The photograph simply reminded me of that Strauss song. The coolest thing about music is that it's forever in the air, unlike photography or painting. And, when it ends, it ends. There's no going back to have one last look, as we might do with a renowned artwork in a museum. I always like to wait at the end of a concert until the stage is cleared, and all that's left are the music stands and chairs, or the grand piano, that, moments ago, was producing exquisite sound and emotion. Strange as it may seem, I try to put that in my photographs, which may explain why many of them are abstract. larrysimonphotographer.com
9. What are your other interests or activities? Yoga and meditation are vital components of my life, as is the Feldenkrais Method — a wonderful accompaniment to musical study. I was so inspired by it that I ended up going through the four year teacher training and occasionally teach it to musicians.
10. How long have you known Nora Williams? Nora and I go way back to when I was first learning the art of accompaniment, and needed a practice room in the Fine Arts Building. It was her studio, which then had a piano. She convinced me that I was good enough to accompany some of her students, so I trusted her, and more than ten years later, I count her as one of my dearest colleagues and friends.
Larry Simon, 2.20.18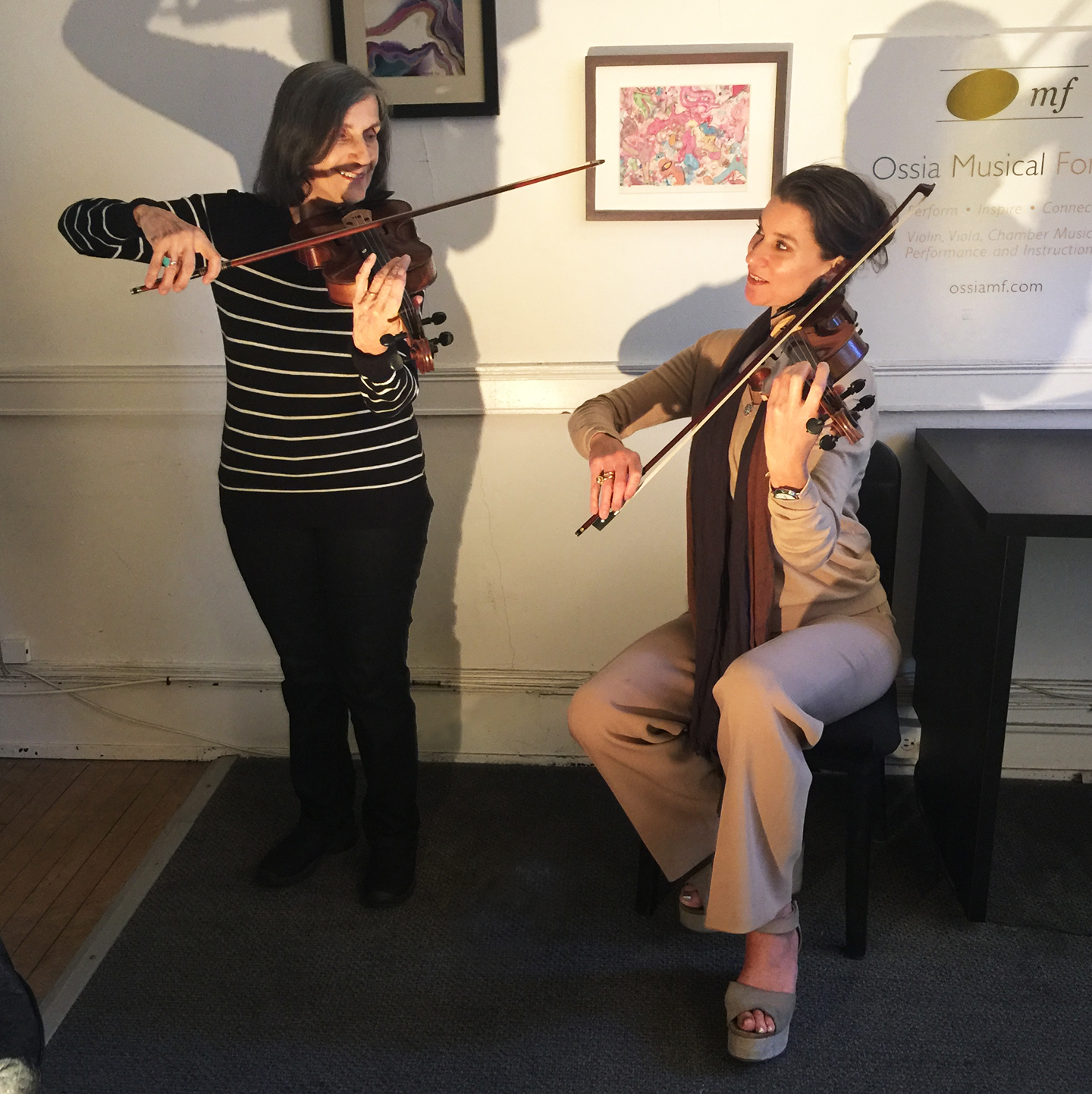 "I am so proud to have Carol as a violin student; her enthusiasm for the arts makes her a pure delight to teach. I sat down to interview her for a deeper look into her remarkable, accomplished life." ~Nora Williams
Carol Kyros-Walker Answers 16 Questions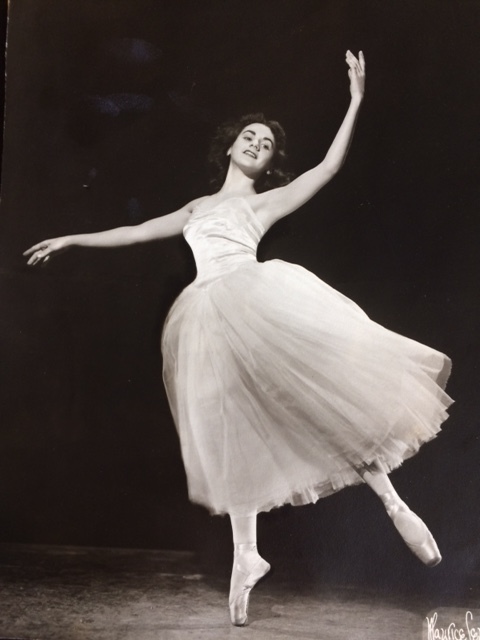 1. Do you have a formal music education?
I took courses in music history and appreciation from John Gibbons at the University of Chicago downtown campus, for continuing education at the Gleacher Center. One on Bach, another on the operas of Verdi, one on Chopin, and other topics or periods that I wanted to focus on.

2. What kind of music experience do you have?
I listen to classical music every day (WFMT is on constantly). I attend concerts as a subscriber to the Chicago Symphony Orchestra, the Lyric Opera and Chicago Opera Theater, and enjoy hearing music on a more in a more intimate salon like setting. I genuinely enjoy amateur performances, like recitals, or a gathering of instruments in someone's living room. Street musicians, even the kids on makeshift drums banging out rhythms with all their hearts, delight me.
As for my own performance, I have played with small chamber groups or duets in the Ossia Musical Forum setting. I have twice participated in the InterHarmony International Music Festival, in Italy. Beyond listening to music, this meant active involvement with the violin; being taught, being coached, and playing with one or more other musicians.

3. How does your experience as a ballet dancer influence your violin playing?
As a dancer I had to be consciously aware of and responsive to music. I was told that I was musical. The ballet classes I attended always had live musical accompaniment, and I was blessed to have truly beautiful pianists accompanying classes at any school I went to. Of course the accompanist was at the mercy of the instructor, and I'm sure they felt their gifts compromised by being told slow this section down, accent that beat, repeat the first twenty four measures over and over as one group of dancers after another performed the exercise across the floor of the studio. At any time the instructor might clap her hands and the music had to stop and start over. The accompanists were saintly in their cooperation.
This formula of where the music belonged hierarchically changed for me when I began playing the violin. Now the accompanist morphed into the performer, and the musical score dictated everything. There was very little accommodation to the performer's needs. Then there was the matter of counting. I came to realize that counting music as a musician was not the same as counting as a dancer. In the ballet world we did things in 4s and 8s and phrases rather than individual measures. Three echappe saute and two changements would be "one and two and three and four and," without any regard to how any notes to a measure.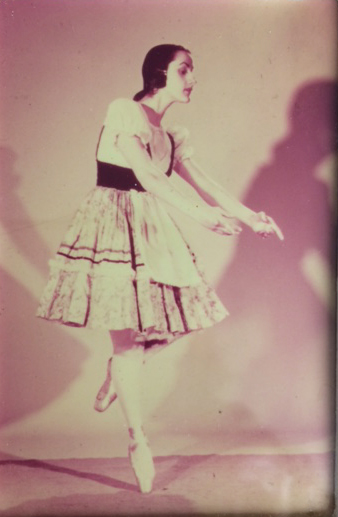 To sum it up, then, my ballet experience was both an advantage and a disadvantage. Because I taught ballet for many more years than I performed, the sense I should dictate to an accompanist what I wanted to happen in the music was was well ingrained. It took a while to surrender to a musical score with all those quarter notes and half notes and sixteenth notes and measures that needed individual attention and would dominate me.

4. When and why did you start playing the violin?
I stared playing the violin much later in life than most musicians. It was after I had stopped teaching ballet, stopped being an English professor, stopped writing books and being a photographer. I probably thought it would replace all these things. It didn't. It just added to the pleasures I had had in other aspects of my life. I probably would never have embarked on this lovely journey if a friend who was moving out of her big house and needed to get rid of things hadn't given me her grandfather's fiddle as a gift (she had replaced it with a finer one for her playing). I decided to see how it works. Got the strings fixed by an expert recommended to me by a CSO violinist who lived in my building, and then I looked for a teacher.

5. What was the first tune(s) you learned?
Like everyone else, I learned Mozart's Twinkle-Twinkle Little Star" first and was thrilled by my accomplishment.

6. Is your family musical?
My sisters, much older than I am, played the piano. I listened to their lessons with great admiration. The teacher came to our house.

7. Which famous musicians do you admire? Why?
I have the sound of Jascha Heifetz, Yehudi Menuhin, and Fritz Kreisler in my head from my earliest appreciation of the violin. They remain standards of melody and style for me. Among trending violinists, there is no one favorite. I love Joshua Bell, Anne Sophie Mutter, Nicola Benedetti, Hilary Hahn, and closer to home, Rachel Barton Pine, and closer still, Pascuale Laurino.

8. Was Nora Williams your first music teacher? Talk about being her student since 2006. What (or who) are your musical influences?
Anthony Gilbert and David Yonan were my teachers before I started with Nora. Anthony came from a family of professional musicians and was a graduate student in Roosevelt's music department. He gave me my very first lessons, and painstakingly instructed me on how to hold the bow. Since he was very tall he had to get on his knees to put my fingers in the right position. We only worked together for one summer, after which he graduated and left the city. David Yonan, my second teacher, was a very gifted violinist from Germany, where he once again resides at t his point. He was doing a lot of performing as well as teaching and he was at that time in the Fine Arts Building, but didn't have a permanent studio. When he moved his teaching practice to Evanston, where he lived, I wanted to stay in the Fine Arts Building, and asked Lee Newcomer in Performers Music if he knew of one. He knew about Nora Williams and her fairly new studio down the hall. The rest is history. I have been the fortunate recipient of Nora's excellent instruction and philosophical spirit ever since. Beyond learning the violin, I've made wonderful music friends through Nora and the Ossia Musical Forum.
9. What are your fondest musical memories?
My fondest memories are of hearing a piece of music come together after rehearsals, the crude beginnings, with all those errors, to the time of performance before an audience.

10. Who are your favorite musicians?
The Chicago Symphony Orchestra. I sit in the second row where I can observe Robert Chen and all the strings.

11. Have you ever performed in public? Describe those occasions? Concerts, radio, TV?
I performed by invitation in an art gallery of The School of the Art Institute with a faculty member and former colleague whose sabbatical show was opening. I played The Dance of the Blessed Spirits, by Gluck.
12. What advice would you give to beginners?
I would tell someone coming late to the violin experience (as I did) to trust that something amazing will come of your efforts, provided you make the right investment of your time and your heart.
13. How often and for how long do you practice?
I aim to practice for an hour a day, but that doesn't always happen. It sometimes has to be a short session. I'm not a professional musician, and life takes me in other necessary directions.

14. What do you practice (exercises, new tunes, hard tunes, etc.)?
I usually start with an etude, a little exercise that will improve some aspect of my technique. From there I turn to a piece of music I'm working on, often something that seems frustratingly difficult. At the moment it's Mozart Sonata in E minor, but I try to keep something simple and beautiful on the music stand for instant gratification.

15. Talk about your career as a professor and an author. What book(s) have your written or contributed to?
For almost all my life I've had parallel and seemingly unconnected professions going. While I was in undergraduate and graduate school pursuing a degree (ultimately a Ph.D.), I was also performing as a ballet dancer. Or teaching ballet. I'm an English professor, retired. I taught in the City Colleges of Chicago, the Daley Campus. I taught ballet at the School of the Art Institute of Chicago, part time, for almost the entire time I was teaching English. I choreographed pieces and collaborated with a colleague, a Jesuit who was also a drama teacher. As another layer to all of this, I published three books with Yale University Press having to do with an English Romantic poet and travels in Scotland. My three books are: Walking North with Keats (1992), Dorothy Wordsworth's Recollections of a Tour in Scotland (1997), and Breaking Away: Coleridge in Scotland (2002). These works also invoked my being a serious photographer and traveling myself. I had studied photography with an art photographer from the Art Institute, Carole Harmel. Carole and I traded our gifts. She took my ballet classes; I studied photography from her.

16. What are your other interests or activities?
In 2016 and 2017 I returned to England and Scotland to retrace Keats's tour, with the idea of producing an updated edition. I'm still working on that. Meanwhile I've been invited to present my work at St. Andrews University (the oldest university in Scotland) and to be a keynote speaker at a Bicenterary Conference at the Keats House, both in the month of May of 2018.
I said above that dance and the academic profession were seemingly unconnected. The truth is, doing both kept me balanced. And in this present phase of my life, the violin, though not a real substitue for dance, nevertheless, keeps me grounded and challenged.
Carol Kyros-Walker, January 2018